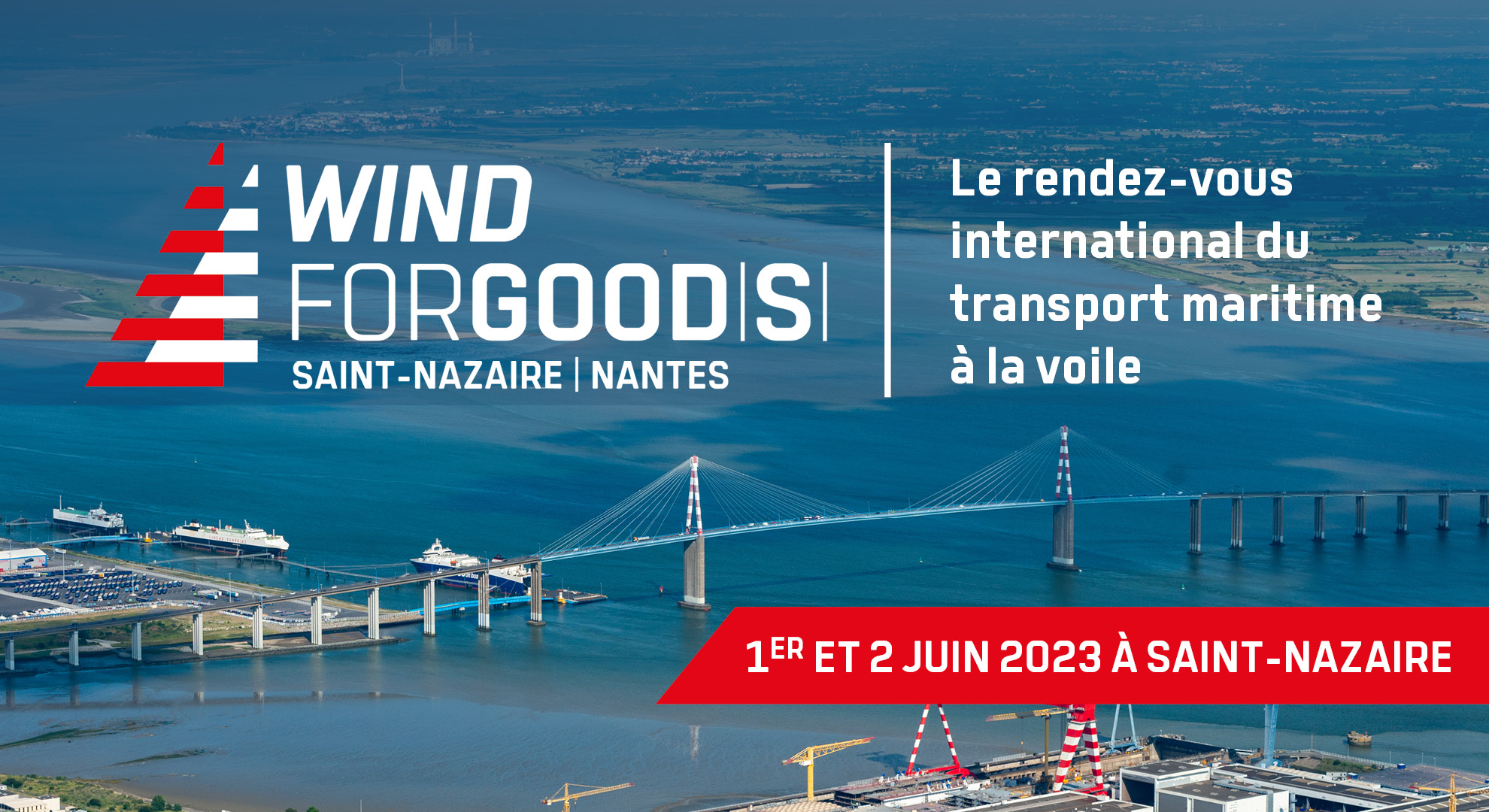 Wind for Goods - the only national event dedicated to wind-powered maritime transport - unveils its 2023 programme. Some fifty exhibitors will be present for this second edition, which will welcome 1,000 visitors from 1 to 2 June 2023 in Saint-Nazaire, Pays de la Loire.
In September 2021, the first Wind for Goods event attracted more than 600 visitors, 17 companies and 20 innovations in wind-powered transport in Saint-Nazaire. The focus was on the stakeholders delivering concrete, large-scale solutions to help decarbonise international maritime transport and protect the environment.
For the 2023 edition, the exhibition will be held over two days. A great opportunity to welcome twice as many exhibitors, to further explore the various subjects and to favour synergies. While the 2021 edition featured the first prototypes and demonstrators, this new edition will showcase the results of these projects, including the first sail-equipped ships and innovative technologies at sea.
Discovering the new generation of ships at sea
Attending the Wind for Goods event will be a unique opportunity to get a sneak preview of the new wind-powered transport ships that are only just out of the shipyards and that will change the face of shipping in the near future. It will also be the opportunity to embark on one of the new generations of ships for an unprecedented sea outing.
Among those to be discovered at sea:
- WISAMO, developed by Michelin to contribute to the decarbonisation of maritime transport, will also be making its first real-life appearance at Wind for Goods. This inflatable wing operated by Frenchman Michel Desjoyeaux is 100% retractable, fully automated and can be installed on any type of ship.

- French sailor Yves Parlier will be taking part in the event with his Beyond the Sea catamaran SeaKite, which he will be testing in the waters of Saint-Nazaire, after performing conclusive tests throughout the winter in the Arcachon bay.
- Iliens, which sails between Quiberon and Belle-Ile, will be visiting its neighbouring port for the second time.
- Terre exotique, a spice carrier and its 18-metre IMOCA.
Many prototypes presented at the exhibition
The sector's leading companies will be present at this unifying event. At the exhibition, a wide range of innovative solutions for decarbonising maritime transport will be presented.
The many exhibitors already confirmed include:
- Airseas will present its kite-technology, a product of Airbus' aeronautical expertise, which has been developed in Nantes since 2021.
- Chantiers de l'Atlantique with their SolidSail, which will equip the ship built by Neoline (also present).
- Grain de Sail, whose cargo ship transports chocolate and coffee from the far ends of the world while limiting its carbon footprint.
- Beyond the Sea, operated by French sailor Yves Parlier, will present its kites designed to tow all types of ships, from pleasure boats to larger maritime transport ships.
- CWS will unveil its revolutionary innovation, a rigid, invertible and asymmetric wing-sail, that is capable of sailing upwind.
- TOWT and its sailing cargo ships that are already transporting goods across the world's seven seas.
- Farwind - a spin-off from Centrale Nantes - develops integrated solutions for energy conversion in the open sea.
Ayro and Bound4Blue are also among the exhibitors who have confirmed their presence for the second edition of Wind for Goods.
More about the Wind for Goods event