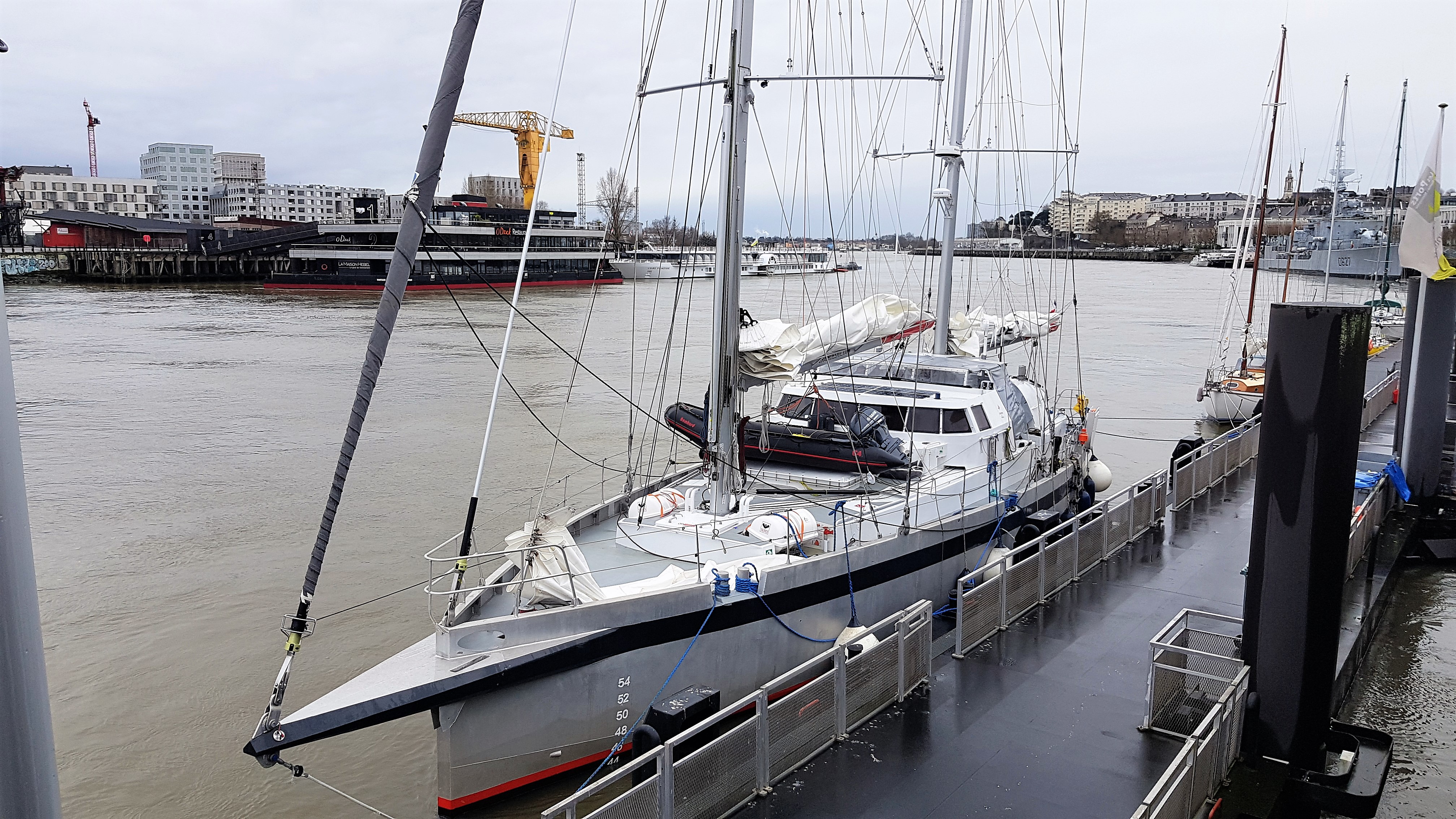 Sail boat Grain de Sail reached Nantes on Wednesday 17 February, its hold filled with 33 tonnes of cocoa ready to be unloaded at the organic-accredited port of Saint-Nazaire.
After starting out roasting coffee beans and making chocolate, in 2018 Grain de Sail (based in Morlaix) decided to build their own cargo-carrying sailing ship, capable of transporting the company's raw materials from one side of the Atlantic to the other in the most environmentally-friendly manner possible. And so, the Grain de Sail was born: the 1st modern, cargo-carrying sail boat, meeting both Merchant Marine standards and professional sailing requirements. Crafted at the Alumarine shipyard in Couëron (near Nantes), and made entirely of aluminium (light, solid and recyclable), the hold of this 24-metre monohull has a storage capacity of 50 tonnes.

A successful first Atlantic crossing for this carbon-free maritime transport initiative
For this maiden crossing, true to the company's principles of sustainability and reducing the environmental impact of maritime transport, Grain de Sail was determined that the ship's hold should not be empty. She therefore left Saint-Malo last November laden with 14,000 bottles of first-class French organic wine, bound for New York and the American market. After this first leg, she sailed down to the Caribbean and Latin America to pick up her cargo of cocoa (next time there will be green coffee beans too). It was then time to set sail for Saint-Nazaire, a port chosen because of its capacity to handle all necessary customs procedures for the importation of organic produce into France.

The sail sector continues to grow in Nantes and Saint-Nazaire
Carbon-free maritime transport is one of the sectors of the future identified as a priority by Nantes and Saint-Nazaire. The region is already home to a dynamic ecosystem of specialists in this sector, comprising both start-ups and traditional maritime industries (including Airseas and the Chantiers de l'Atlantique), along with a thriving support infrastructure (Neopolia, PASCA and the future Sustainable SupplyChain platform, competitiveness clusters Mer Bretagne Atlantique and EMC2, IRT Jules Verne, the WindShip association) and a wealth of academic expertise (Centrale Nantes, Université de Nantes, ENSM et al.).

On current estimates, 50% of all sail technologies developed in France have their origins in Nantes and Saint-Nazaire. Overview:
- Airseas: A spin-off of Airbus, Airseas is focused on the capacity of sails to decarbonize maritime transport.
- Neoline: Based in Nantes, Neoline plans to launch two sail-powered roll-on/roll-off cargo ships this year, each measuring 136m in length. The company has already attracted a roll call of prestigious clients (Renault, Manitou, Bénéteau, Michelin).
- Zéphyr&Borée: a start-up founded in Nantes which aims to reduce the CO2 emissions from large ships by between 20% and 50%. A pilot journey is scheduled for 2022, in partnership with ArianeGroup.
- Solid Sail: Built by Chantiers de l'Atlantique and designed to propel the world's largest sail-powered cruiser (Silenseas), Solid Sail is a folding sail which can be extended to up to 95m in height, providing a surface area of 1200m². The goal is to reduce greenhouse gas emissions by 50%. A new prototype will be installed on dry land in Saint-Nazaire in 2022.
- Terre Exotique: This spice trading firm, who relocated to Saint-Nazaire in 2020, places special emphasis on environmental responsibility. The company recently acquired an 18-metre monohull vessel, an IMOCA ideal for transporting spices.
- D-ICE Engineering: This Nantes-based engineering firm, specialising in hydrodynamics, is involved with a number of sail-powered projects in the region.

A new facility in Bas Chantenay for companies working in the nautical sector
In order to foster and support the development of such innovative projects, and to attract new players to the region, Nantes and Saint-Nazaire are working to structure the sail transport sector. Their ambition is to establish a flagship facility, based at the Usine Electrique project in the Bas Chantenay district. The main hall of this former factory is to be transformed into a dedicated economic hub for the maritime and nautical sectors. The nautical building, representing the first phase in the transformation of the site, will be a hybrid innovation hub housing production facilities (industrial workshops), workspaces (offices) and social spaces, with a total surface area of almost 6000m².