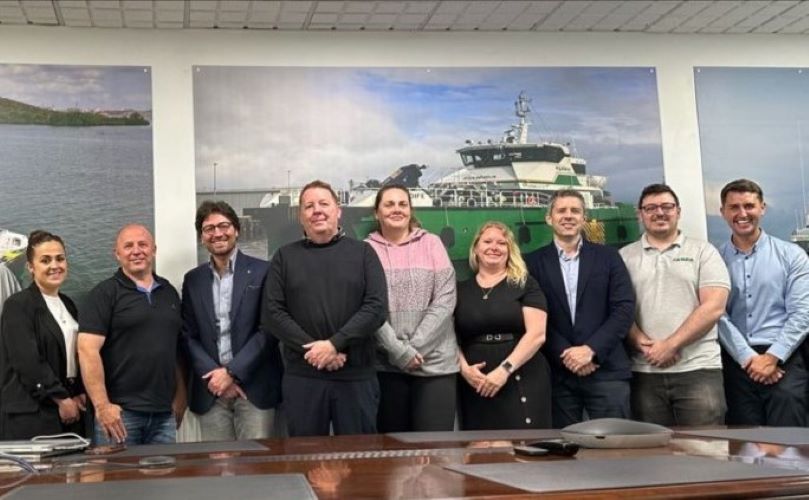 Farra Marine operates crew and goods transfer vessels for offshore wind farms. Last July, the shipowner set up its French branch in the Multiburo Nantes Congrès coworking space.
This Irish company has chosen Nantes for its establishment in France. Farra Marine was founded in 2020 in Ireland by Martin Rice and Jason Parker, two trained maritime engineers who have spent their careers working at sea. "Farra Marine currently operates a fleet of 8 state-of-the-art CTVs (CTV stands for Crew Transfer Vessels), 27-meter ships capable of accommodating up to 24 passengers. Six additional vessels are expected to be delivered by the end of the first quarter of 2024 with the aim of reaching 40 ships in Europe within the next five years. Farra Marine is ready to support its French clients in the development of offshore wind farms through its expertise gained in the European market," say the two partners.
Tight links with the marine energy sector
Choosing Nantes for their French office was a strategic move for Farra Marine. "Several French clients in offshore wind market are based in the Nantes and Saint-Nazaire region. Moreover, Nantes is less than 4 hours away from the first offshore wind farms built in France since 2022 (Saint-Nazaire, Saint-Brieuc, Fécamp, and Courseulles-sur-Mer) and the upcoming Normandy, Brittany, and Loire-based farms," explains Audrey Leconte, Head of European Business Development at Farra Marine. "In Nantes, I've fostered close ties with Neopolia industrial network, which introduced me to the Nantes Saint-Nazaire Développement agency and the regional agency Solutions&Co. They assisted us in establishing Farra Marine France by offering their services. We also appreciated the support from the Pays de la Loire Region, and have been involved in the construction of the offshore wind farm at Parc du banc de Guérande–Saint-Nazaire since July 2022. We also operate one of our vessels on the Fécamp offshore wind farm construction project until 2024," she continues.
Training sailors is essential for recruitment
With offshore wind projects in the UK, France, Germany, Denmark, and the Netherlands, Farra Marine is experiencing rapid growth. "We now have 15 people on our management and support team, and around 55 crew members on our ships," says Audrey Leconte. "The company will employ nearly 100 people at the beginning of next year, and in response to our clients' demands, we have an investment plan for training and developing French crews. However, if we want to meet the construction goals for offshore wind farms in France, it's essential to expedite the training of French sailors on CTVs. For now, we're handling this training which can take several months or even years. Discussions are underway with regions and the local offshore wind ecosystem to enhance CTV crew training."
Learn more about Farra Marine