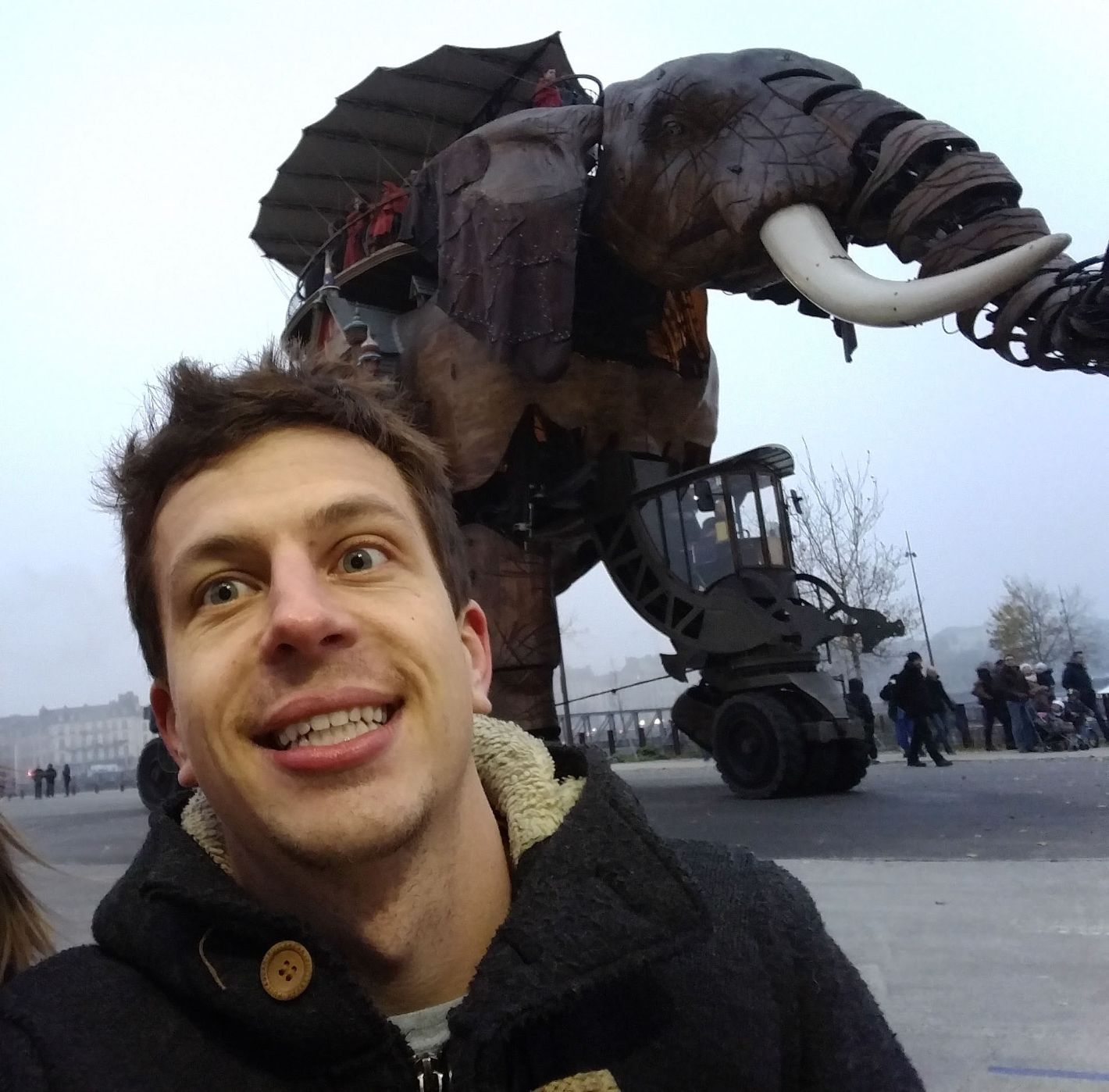 Brice Lagroy de Croutte decided to leave Paris and set up in a big regional city where he could find fulfilment in his professional and personal life. He chose Nantes. Here he tells his story.

Brice LAGROY DE CROUTTE, 31, moved to Nantes in January 2017 to set up a R&D office for his company AB Tasty, which specialises in A/B testing, a new technology for testing web pages.


The dream job
I joined AB Tasty in Paris in 2013 as a developer. The company was founded 4 years earlier by Rémi Aubert and Alix de Sagazan and only had 8 people when I came on board. At the time the commercial product was starting to take off. The initial idea was to offer consultancy services to help clients use a software for analysing their websites. I think AB Tasty owes its success to its recruitment of a highly qualified team of consultants who know how to help clients use the tool, are very quick to react to clients' needs and give regular feedback to the technical team so that the product can be improved.
AB Tasty has doubled its number of staff every year and now has 120 employees worldwide, including 100 in Paris, of whom 30 are consultants. Funds have been raised to win international market shares, with one notable success being the raising of 6 million euros for Europe (Berlin, Cologne, London and Madrid) and bringing in 17 million dollars in June 2017 for the United States, where our competitor, Optimizely, is based.

Keen to combine professional dynamism with proximity to the sea
At the outset it was a personal wish to leave Paris. We thought that my wife, who works in local authorities, should first find a job somewhere. We thought about Lyon, another dynamic city, but Nantes appealed to us more because we were keen to combine professional dynamism with proximity to the sea, as that enabled me to go surfing in Vendée, where I have a house. We were also attracted by the city's transformation, the urban spaces, L'Ile Feydeau, the room set aside for cycling and parks such as the one in Ile de Versailles, where flowers bloom in the spring. We also like the prominence that Nantes gives to art around the city, with the green line covering Voyage à Nantes, the Machines de l'Ile, the Carrousel and so on.


Opening a R&D office in Nantes was a no-brainer
After 6 months, my wife's job-seeking had not borne fruit so I went to see my managers and suggested that I work for them remotely. The founder, Rémi, had been thinking about opening a separate technical agency for a while, an independent team that could concentrate on product development. But he did not want me to go alone. In August 2016, we realised that opening a R&D office in Nantes was a no-brainer: Nantes has a reputation among digital professionals for being very much geared towards the web and for having a very dynamic ecosystem, especially with the Web2Day flagship event.
Looking for a coworking space in Nantes


A colleague at AB Tasty went online and chose some coworking spaces. I went to visit 3 of them in one day. Our criteria included having a space in the town centre that we could share with other startups and that this should be a sustainable facility. After talking to two former colleagues from Paris who had also settled recently in Nantes, I chose the Startup Palace for its knowledge of our work and of the startups world in general.


Relocating to Nantes
I was then put in touch with the Nantes Saint-Nazaire Développement economic agency, which supports companies that want to establish operations in the city. Somebody from the agency who is responsible for supporting employees (Carine Menier-Broine - Ed.) was very helpful when it came to managing our relocation to Nantes. The biggest issue was finding an apartment. The economic agency has an online platform for entrepreneurs who want to move to Nantes Saint-Nazaire. Through this platform we were offered 3 apartments within 24 hours and got a reduction in the relocation cost. That struck me as a very fast. Also, just before Christmas we were delighted to receive welcome gifts at our Paris office from the Nantes Saint-Nazaire Développement agency.


AB Tasty's R&D office in Nantes
We hired two people to join us in Nantes at the start of the year. We are continuing to recruit and are seeking several back-end developers.
Are you planning to move your company to Nantes Saint-Nazaire? Contact us!