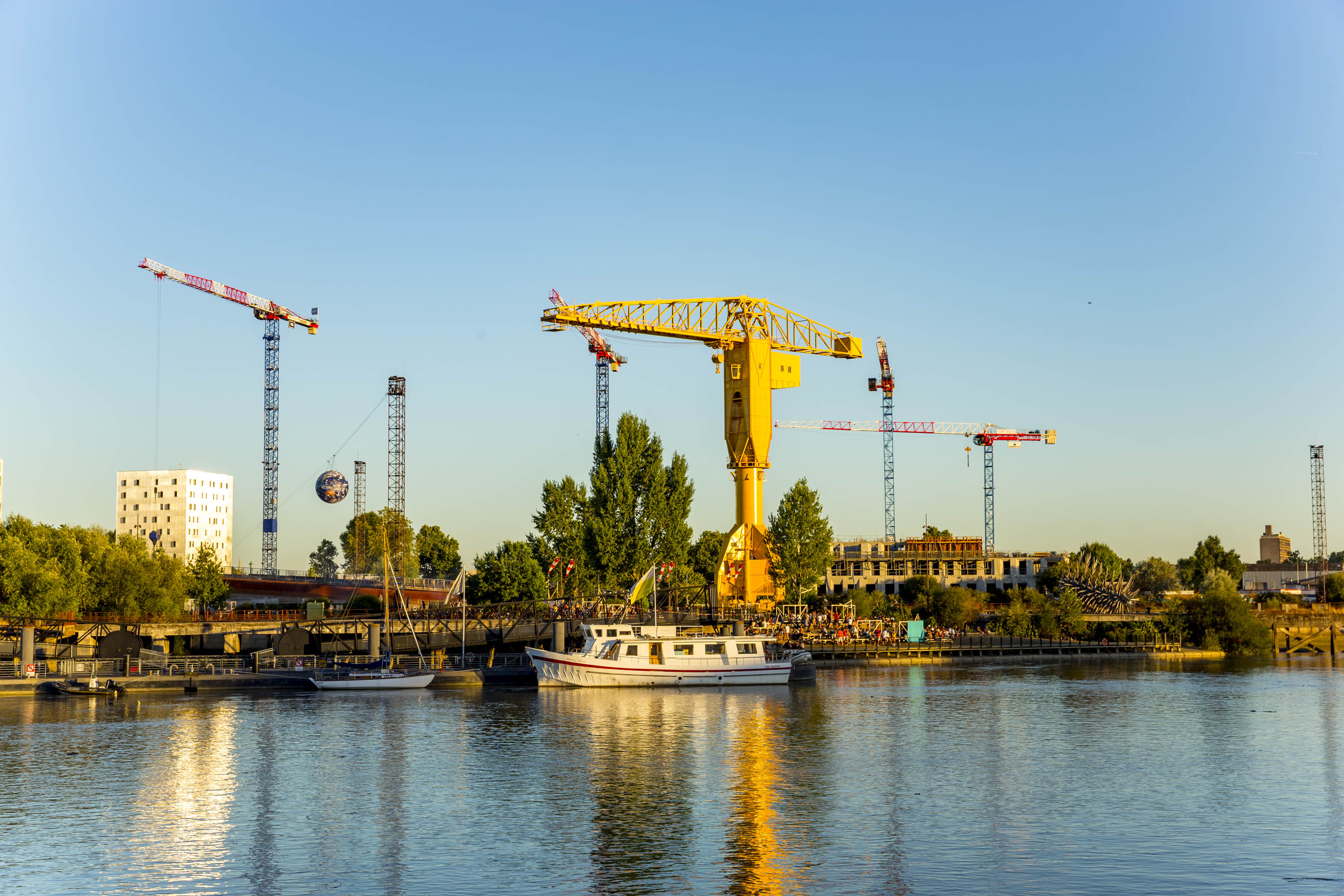 From 13 to 16 March 2018, the Nantes Saint-Nazaire metropolitan area presents its major urban projects at the MIPIM international property expo in Cannes. Here is a recap of the 5 major projects.
1-The Ile de Nantes, the centrepiece of the greater metropolitan area
A former industrial wasteland, the Ile de Nantes is one of the most extensive urban rehabilitation operations in Europe. It is entering its 3rd phase of development, headed by the new team of architects and landscapers Jacqueline Osty and Claire Schorter for a period of 8 years (2017-2025).
On the program: the transfer of the wholesale market scheduled for 2018 and the arrival of the new University Hospital, which will give birth to the 225,000 m² Healthcare District by 2026, for an estimated investment of one billion euros. Also, in the completion phase by 2019, the Creative Arts District, European hub and centre of excellence in the field of Cultural and Creative Industries.
By 2037, this sector of the Ile de Nantes will offer nearly 1 million m² of buildable land area, including 416,000 m² of housing, 138,000 m² of offices, 79,000 m² of business and retail space, 40,000 m² of infrastructure and 275,000 m² for the Hospital.

2- The future multimodal train station of Nantes
Designed by Rudy Ricciotti, the architect of the MuCEM in Marseille, the future multimodal train station of Nantes will open to the public in late 2019. Located between the new Euronantes business district (600,000 m² of offices) and the Botanical Gardens, it will feature shops and new services for travellers. By 2030, traffic in this train station should increase from 20 to 25 million passengers per year. The project represents an investment of 58.9 M Euros.

3- Bas-Chantenay, a mixed-use focus
The Bas-Chantenay area will be the centre of a 150 hectare urban renewal project to generate new jobs in the maritime, creative, cultural and digital industries. The goal of urban planner Bernard Reichen is to combine housing and industry by building 1000 apartments.
As the nucleus of the city of tomorrow, in 2022 this neighbourhood will be home to the Heron Tree, an incredible arts project headed by the Machines de l'Ile, a monumental tree rising 35 meters high facing the Loire, with space for 400 people among its 22 branches.

4- "Live on the Loire" in Pirmil-Les-Isles
The challenge for urban planner Frédéric Bonnet is to invent new urban landscapes in southern Nantes, to design a city focused on nature where water becomes a source of architectural and urban innovation, with new panoramas over the river. Over the next 25 years, this neighbourhood will acquire 5,000 new housing units and 55,000 m² for businesses on 150 hectares of land.

For Johanna Rolland, "Nantes is moving forward and achieving its ambition. Through these three key projects, the goal is to reclaim the Loire River as central to the metropolitan area, give more space to nature in the city, assert our differences and our identity and create a new urban model. We want the entire city to converge on the Loire!"

5- Saint-Nazaire unveils its new face
In 2018, Saint-Nazaire inaugurated a number of major urban projects, including the Place du Commando, Aquaparc, and the redevelopment of the port area. And this is only the beginning! >


Meet Nantes Saint-Nazaire's urban stakeholders at booth P1/A1. Do you want to make an appointment? Contact us today