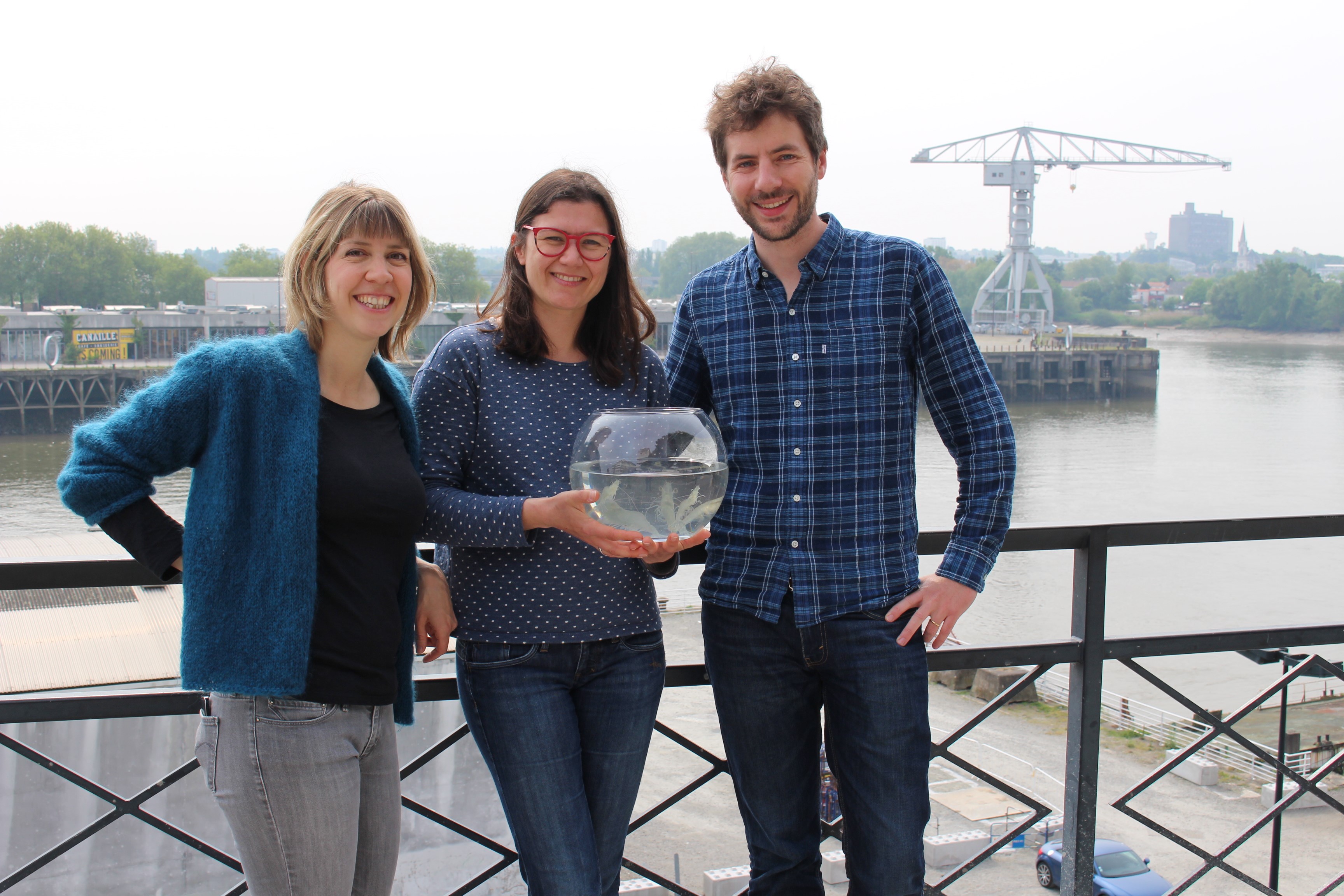 Nantes is popular with entrepreneurs. Among the many startups that open here every year, some originate from extremely novel, even extraordinary ideas. Here are five unusual businesses, some that were started in Nantes and continue to grow in the area, and others that were started elsewhere and have moved to Nantes to accelerate their growth. Read on to learn about their success stories!
LISAqua, the local, eco-friendly prawn farm
"Premium, environmentally friendly prawns farmed in Loire-Atlantique without antibiotics." LISAqua opened in 2018, after Charlotte Schoelinck, in the course of completing her thesis in marine biology, discovered the extensive environmental damage caused by intensive aquaculture: farmed fish and prawns contain many additives and antibiotics, and pollutants are dumped untreated into the waterways. Believing that fish can be farmed sustainably, she partnered with Caroline Madoc and Gabriel Boneu to launch the company Lisaqua, for Low-Impact and Sustainable Aquaculture, to offer fresh, local prawns with a triple zero guarantee: zero antibiotics, zero polluting waste and zero freezing.
After a first experimental production of 500 prawns, the small company won several innovation awards, opened its experimental ponds in 2019 in the Bas Chantenay district of Nantes, and set up an urban micro-farm in Saint-Herblain. The partners are now looking for a new place to scale up their pilot farm to produce 20 tonnes of prawns per year within two years. They plan to create 5 jobs in 3 years in this first circular fish farm in the region.

10-Vins, the Nespresso of wine
In 2012, three friends from Nantes with a passion for wine tourism launched the startup 10-Vins, with the idea of getting a wine tasting experience worthy of a sommelier in the comfort of your own home. After 5 years of R&D, they developed the "D-vine" (photo below), a wine-tasting machine that serves wine by the glass, at the ideal temperature and perfectly aerated. All in less than a minute! Their goal is simple: to make their machine the "Nespresso of wine".
Seven years later, the startup has raised 9 million euros and posted growth of 250% in 2019. Initially targeting individuals, the startup changed its business model two years ago, and now leases its machines to hotels and restaurants. The D-Vine is now present in some 500 food service establishments. The company located on the Ile de Nantes already employs 43 people and has invested in a 600m2 warehouse on the outskirts of Nantes. Today, 30% of their revenue is generated in Singapore, China, Belgium and England.
And they just unveiled a new machine, the D-Vine Connect, which has been on the market for a few months now. It features a screen and makes it possible to further increase the number of glasses of wine sold to customers, facilitates the tasting experience and helps businesses to manage their sales by monitoring consumption directly.
> Watch the promotional video


Velco, the smart handlebar
The initial idea of Pierre Regnier, at the time a student at Audencia Business School in Nantes, was to create a GPS tracker for lost bikes. A prototype was developed, and with input from customers, it evolved into the WinkBar, the smart handlebar. It is equipped with GPS navigation connected to a smartphone, with lights on the handlebars that tell you when to turn. It also has other features such as smart headlights that optimize the visibility of the bike and a geolocation system in case of theft. This smart system has revolutionized how bicycles are used.
After raising 3 million euros in 2018, the startup Velco began selling its handlebar in France, Belgium, the Netherlands, Spain and Portugal and won several Eurobike awards at CES Las Vegas, where it was also a winner in the Smart Cities category. Today, Velco is offering new solutions for urban mobility professionals (fleet managers, bike rental businesses, manufacturers) for bicycles but also for scooters, motor scooters and motorcycles. Data is collected by a universal tracker.
The startup, which currently employs 20 people, is preparing a new round of fundraising in 2020 to support its international growth.

Airseas invents a kite that can tow commercial ships
After two years of development with the support of Airbus in Toulouse, the young company decided to set up its head office in Nantes in early 2019. Their goal was to take advantage of the ecosystem of skills and maritime industries in Nantes Saint-Nazaire, which boasts a strong local supply chain.
In the long term, it has the potential to create 200 jobs in prototyping and development, then in production. At the end of 2020, AirSeas will move into its new location, which is part of a new real estate complex currently under development in the Bas-Chantenay area, designed to accommodate innovative companies in the maritime and marine renewable energy sectors.
A first building of 5,000 m² will house the AirSeas headquarters, comprising a wing prototyping hall and an office area. The integration of the giant wings will later require an additional building in the region with a surface area of approximately 6,000 m².

EQUIUM develops an ecological heat pump that operates acoustically.
Created in the Paris region in 2017, the startup Equium produces a novel type of heat pump. Its engine works thanks to very high power acoustic waves amplified by the waste heat recovered. The amplified sound performs the compression and expansion of a conventional fridge, but without the need for maintenance or greenhouse gases.
"This type of industrial refrigeration will improve the energy efficiency of power production systems (generators or gas turbines) and on board ships", says Cédric François, founder of the startup Equium. Another application is the possibility of supplementing conventional systems to lower electricity consumption in homes.
Equium is already looking to expand into international markets: an industrial partnership is being signed in Germany, and the Chinese markets are being explored, Equium having been a winner of the China FrenchTech Tour in November 2019.