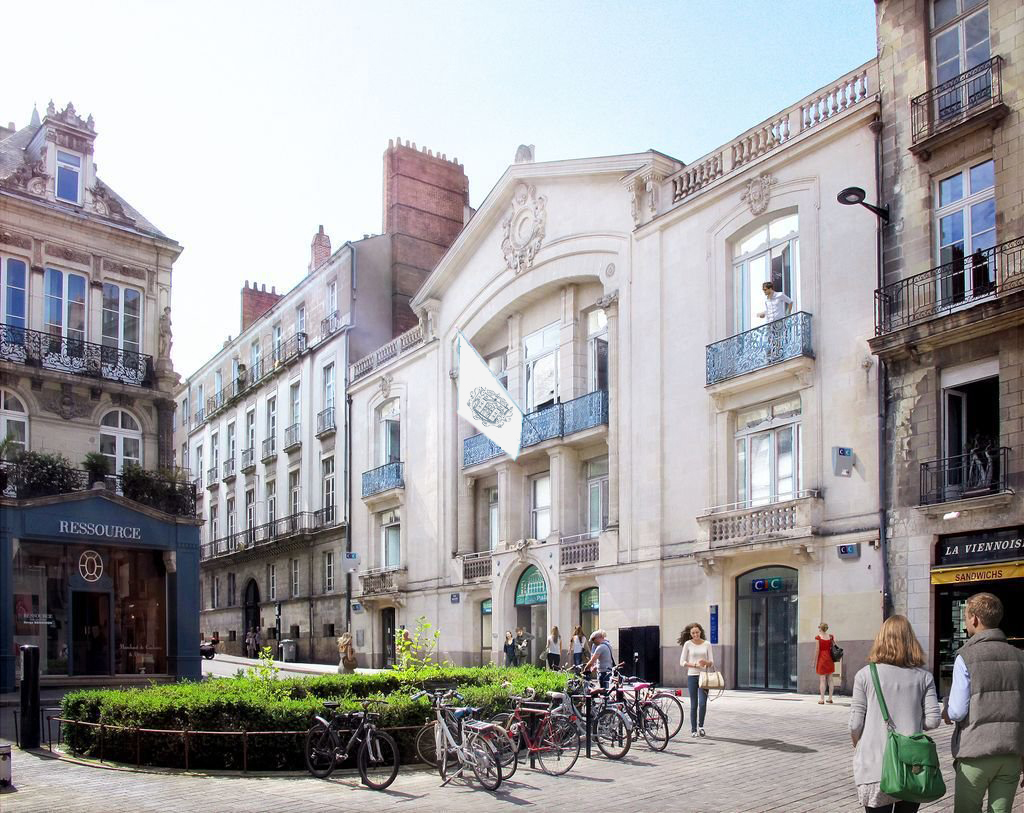 A chapel with a gym, a Palace for startups, a circus arts atmosphere in the midst of the business district... Discover 3 new unique coworking spaces that will open in early 2020.
Coworking in a Palace
In central Nantes, just steps from the opera Graslin, Le Palace (photo) is a unique place that houses startups, innovation teams of large companies, accelerators, schools and investors, all under the same roof. Spanning 3200 m2, the new building inaugurated in December 2019 features 378 workstations in 38 private offices, 2 coworking offices (36 workstations), an event room with 300 seats, several meeting rooms, a gym, showers, a patio, a large cafeteria and a magnificent atrium.
This large historic building was once the headquarters of CIC Bank and is now Nantes' new innovation hub. "With humility but also with determination, we want to make Le Palace a mini Station F," explains Grégory Thibord, its director. Designed for people who want to contribute to and be inspired by startup culture, to drop by for a cup of coffee or host an event, this innovation hub is home to startups such as Verteego, Mr Suricate, Owkin, Happytomeetyou, Figaro Classifieds, Ho Karan, Veepee, ABTasty and OpenDataSoft. Le Palace intends to build an efficient ecosystem, focused on sharing innovation among residents.

> Find out more about Le Palace

A chapel transformed into a coworking space
Occupied until 1994 by the Marie Réparatrice nuns, the chapel on rue Mondésir has kept its former charm with its barrel vaults, nave and transept and its Byzantine-inspired arched stained glass windows, all in a beautiful 630 m2 space. Updated with metal walkways and large windows, the space scheduled to open on 1 January 2020 inspires creativity and innovation.
Called W'iN Nantes, this new coworking space, located just steps from the city centre, near Guist'hau High School, offers open space and private offices. It features 60 coworking workstations on the ground floor and 7 shared offices on the first and second floors. All the fixtures, including the desks, chairs, lockers and soundproofing panels, are designed to improve working comfort and productivity. In addition to the offices, the entire community can share the lounge areas, a gym and a cafeteria in order to network in a friendly and comfortable atmosphere. The space offers monthly rentals, starting at €195 per workstation, or one to five day rentals for €20 per day.

> Find out more at W'iN Nantes

A "Circus Arts" coworking space
Roll out the red carpet and let the show begin! WHOORKS chose the theme circus arts, inspired by the creativity of Nantes, for its new coworking space, located in the Euronantes business district near the train station.
Open to self-employed people looking for a friendly, Wi-Fi-enabled work space, the flex-office solution offers nearly 100 workstations with monthly rates of €150.
For companies with several employees looking for an innovative work environment, WHOORKS rents private offices or an entire office suite, with a total capacity of 650 workstations.
At the 7000 m2 facility, WHOORKS also offers meeting rooms as well as common areas for shared use. The ground floor features a restaurant open to the neighbourhood, and a central area in the form of a large marquee can be rented for private events (conferences, meetings) accommodating up to 100 people. Thanks to the excellent transportation connections (SNCF train station, tramway, bus, taxi, bike-share), the area attracts many tech companies and service businesses.
> Find out more about WHOORKS Euronantes