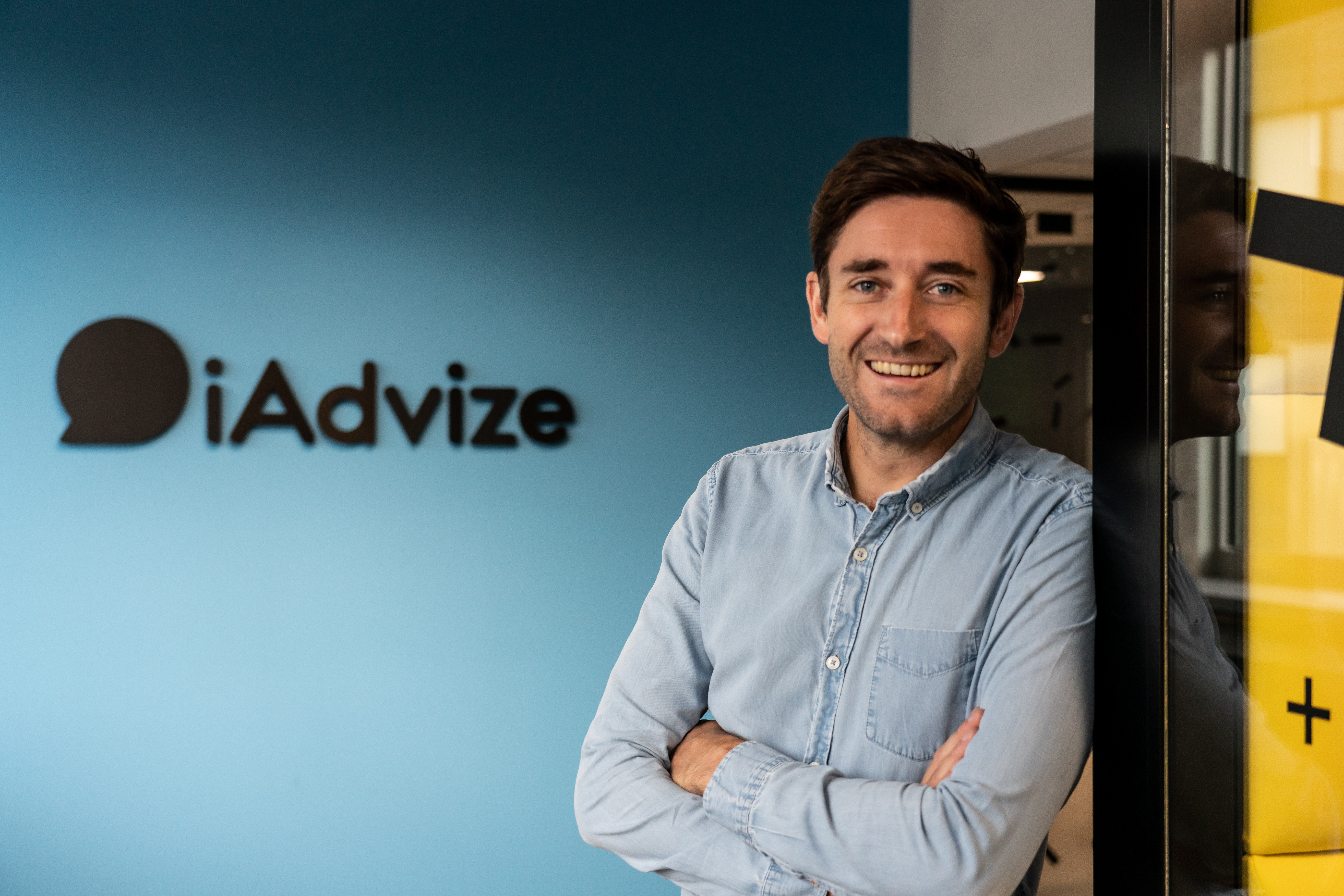 Nothing is more powerful than the right idea at the right moment! When he decided to launch a conversational marketing platform back in 2010, Julien Hervouët followed his intuition. As he celebrates the tenth birthday of iAdvize, the start-up he founded, Julien Hervouët looks back at that original idea and the ingredients which came together to make this adventure a success story "made in Nantes," catapulting him into the French Tech 120.
iAdvize is celebrating 10 years in 2020. Is it easy to measure how far you've come?
Well according to the official papers registered with the Tribunal de Commerce, iAdvize was officially born on 25th January 2010. Before that I was product manager at another e-commerce start-up based in Nantes. But that start-up was plunged into crisis by a paradigm shift which took place at Google. I pitched an idea to the company's director about how we could implement a more human approach to online customer service using chat tools, as a way of boosting our transformation rate. I believed really strongly that we needed to bring back some humanity to the vendor-customer relationship, with real time interaction via the most suitable medium available – the chat tool – and that this would have a positive impact on the rate of transformation. But the company didn't share my opinion, so I founded iAdvize to put my ideas into practice.
I started out all alone in an office, but pretty soon a fellow entrepreneur based in Nantes offered me some office space. My first business decision was to recruit a technical director, and then I recruited some former colleagues, some of whom are still with me today. The first developer I hired is still with iAdvize, and the technical director left us only recently to take on a new challenge. We now have a team of nearly 250 employees split between our offices in Nantes, London, Düsseldorf and Boston.


iAdvize provides BtoB solutions. In practical terms, how do the big brands we all know make use of your tools?
I'll give you an example. If you're planning a holiday in Vietnam, you may be able to ask your friends for travel tips. But since we don't always have friends that are specialists in everything, when you're shopping online you can choose to have a one-on-one discussion with an expert who is passionate about the subject. Above and beyond giving advice, the expert can share feedback about everything from flights to restaurants, travel insurance and what camera to take. Another example: if you're looking to buy a pair of running shoes, an expert can help you pick the right trainers based on your physiological criteria, and even give you some tips for the half marathon you're training for.
Independent experts are selected using the ibbü app, and they apply to join the campaigns currently offered on the platform for specific brands or products. They go through a conversation test to assess their level of experience and expertise. They then get paid by the brand, either with a fee per conversation or on a sales performance basis.
We launched "ibbü" in 2016, and it's the innovation which really sets us apart from the competition in this market. In the meantime, conversational marketing has become standard practice, so we now have hundreds of competitors all over the world. We work with about 2000 brands in Europe and the USA. We have over 25,000 independent experts who are on hand to help online shoppers, with advice based on real expertise. All in all, if we think in terms of end users, we have tens of millions of clients all over the world.


iAdvize was voted 'France's favourite company outside Paris' by Capital magazine in 2019. A big honour... What measures have you taken to make working conditions better for your employees?
There have been literally dozens of things. These days it's not enough to have table football or cool offices. We really want to recruit people who will find what they're looking for with our company. We want our colleagues to share our values.
We try to recruit people who are competent, intelligent and responsible, people who enjoy taking on projects in their professional lives as well as their personal lives. It's up to our employees to take the initiative and channel their energy. And it's our job to encourage them. So we give each employee a budget of €150 per year which they can use for sporting activities, or to send flowers to a client in hospital, or other good uses.
As for our pay scheme, everybody has a fixed salary and a variable bonus. And all employees have stock options in the company.


How are you planning on celebrating this big birthday?
To celebrate our 10th birthday, the annual Conversation event we organise in Nantes with our fellow pioneers in the field of conversational marketing (500 people) will be held in Paris this year, at Station F on 28 May. We're expecting around 1000 professional guests, and it's also a good opportunity for our whole team to get together in Paris.



What are the perspectives for future development over the next ten years?
If you'd have asked me that in 2010, I'd never have guessed that we'd be where we are today. I wanted to inject more humanity into the digital experience and prove that it was economically viable to do so.
But what I can tell you about is our ambition. We're living through an intense, unique moment. Conversation/messaging has become industry standard for e-commerce, we couldn't have asked for more. I personally believe that conversational marketing is going to become the primary form of interaction between brands, companies and clients, because it's the natural manner in which people communicate. These days customers are looking for more authenticity, stronger relationships. iAdvize can and should be at the forefront of that transformation, making the digital experience even more connected, more human and more authentic. We have the opportunity to become a global leader in the field; that's the path we'll be pursuing over the next 10 years.

In your opinion, what are the factors that made this success story possible in Nantes?
The 'Nantes experience' is real: I know because I've been through it. When I started out, some more experienced entrepreneurs took me under their wing. I took the plunge and launched my own business because I knew there were people around me who had been through those tough first 3 years, and would be there to help me. When you're starting out in business, having that community and that history is so important. And when people from elsewhere come to work in Nantes, they're always impressed by that collective approach and that ecosystem.
Another big priority for iAdvize right from the start was to establish our reputation as a good employer. We were lucky in that talented people soon started flocking to join us. People who were keen to get out of Paris, or London, or Singapore, who joined us at a certain point in their personal lives, people with young families who didn't want to live in the capital anymore, who were drawn to Nantes by the quality of life, the beaches etc. Nowadays things are very different. The business ecosystem here is mature now, with established companies moving in and competing for the best talents.


You're clearly very attached to Nantes. How do you think the city is going to evolve over the next ten years?
I was born and raised in Nantes, but these days I live out among the vineyards and I only come into the city for work. One of my greatest childhood memories is going to see Royal de Luxe with my Dad, with a mixture of fear and amazement. Nantes has always been a city with a fantastic cultural scene, and a clear identity in its urban development. I've seen the city evolve and grow, without losing any of its character.
The part of town I'm most attached to is the Ile de Nantes. In terms of culture, economics and urban development, it's a microcosm of the best Nantes has to offer. It's an extraordinary place.

Find out more about iAdvize