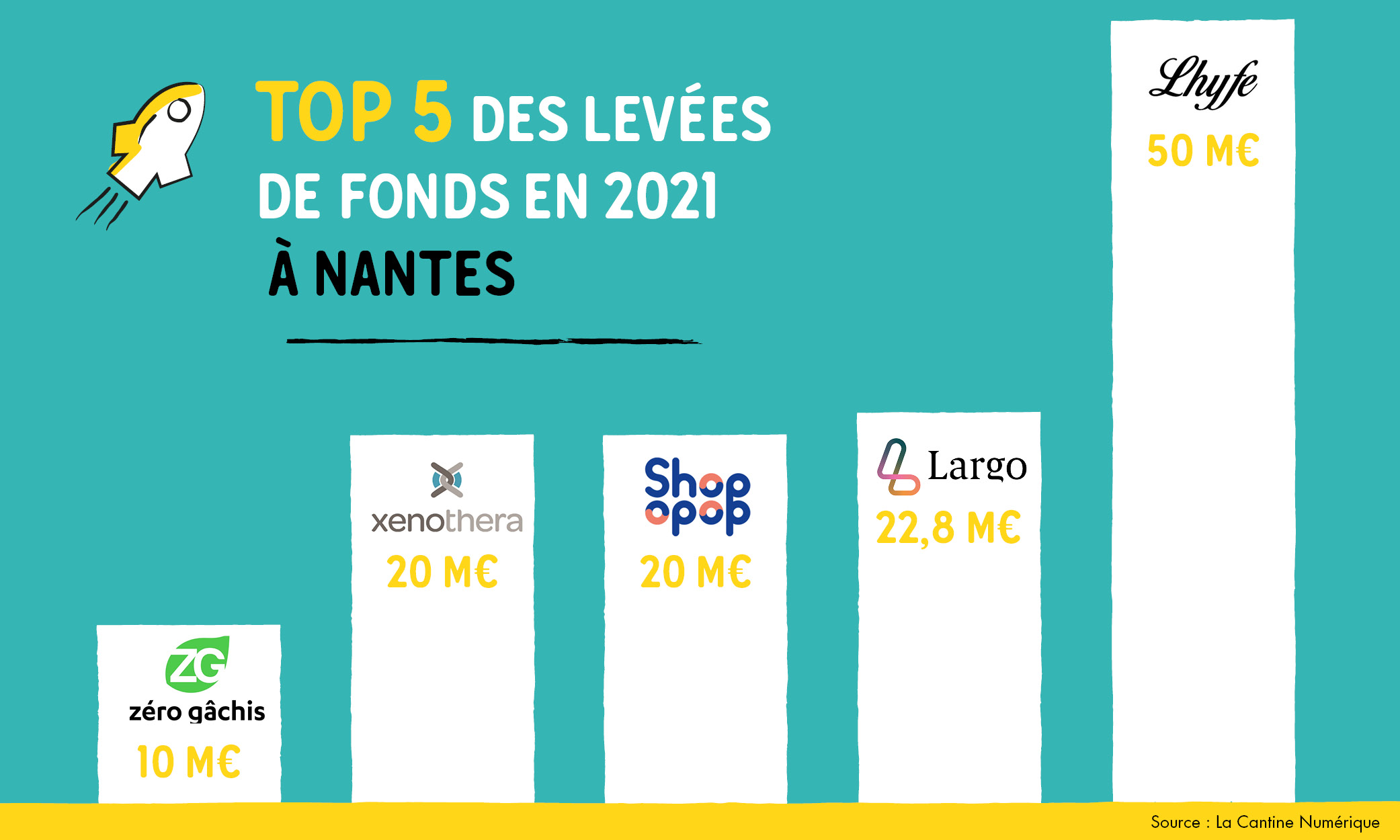 Faith in Nantes-based startups holds strong despite the Covid health crisis. Demonstrating the vitality of the digital sector, the city's startups secured a total of 195 million euros with 30 transactions in 2021.
Investors definitely showed up! Nantes-based startups raised a record sum of 195 million euros in 2021, according to the figures published by the Cantine Numérique de Nantes. This is a record amount. And remember that funding rounds reached 80 million euros in 2020 and 99 million euros in 2019.
Lhyfe, a Nantes-based startup committed to the development of clean hydrogen, shattered all the records with 50 million euros in funds raised in October. The funds will help the company keep up with its strong growth both in France and abroad and will allow 80 new employees to join its current 60-person team.
Largo, a French eco-responsible industrial player based in Sainte-Luce on the outskirts of Nantes, specialises in refurbishing tablets and smartphones. The company had an extremely successful trading début with a total of 22.8 million euros generated, a sum well beyond expectations.
Xenothera, a Nantes-based biotech firm, raised 20 million euros to help support the momentum of its anti-Covid drug and to accelerate the development of other treatments against multi-drug resistant bacteria and cancer.
Shopopop secured 20 million euros in hopes of solidifying its position in France. With its sights set on European markets, the company intends to reach 20,000 points of sale, largely surpassing its current 2,000. The promising Nantes-based Shopopop is a crowdshipping delivery platform for home shopping between individuals.
Smartway (known as Zéro Waste) raised 10 million euros in a funding round. The Nantes-based startup developed a digital solution that allows supermarket teams to detect products approaching their expiration date. The funds will help equip the 4,000 points of sale the company will target between now and 2025 in France and in other European countries. Smartway's team is already 80 strong at its headquarters in Saint-Herblain near Nantes, and it looks to double that number in 2022.
Other SDG-driven startups that secured more modest sums include: Beem (€8M), which manufactures solar panels to install yourself, Equium (€3M), which develops economical heat pumps, Mini Mondes (€3.5M), which designs gender-neutral, eco-friendly toys 100% made in France and Farwind (€2M), which develops technology to capture far-offshore wind energy as an alternative resource that can be used for transport.
Read more on the Cantine website