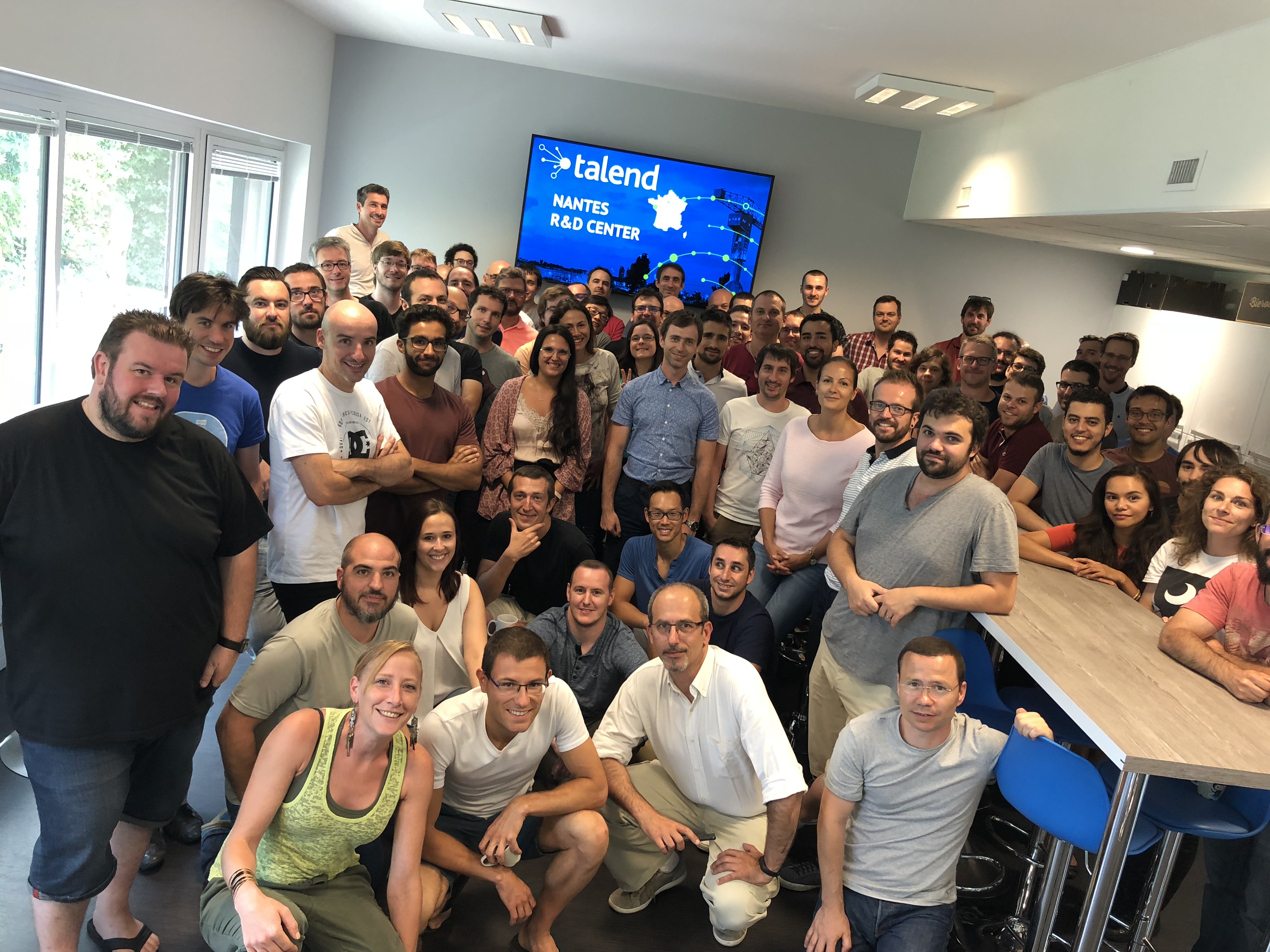 From conversational marketing to e-catalogues, big data and e-logistics, in just a few years these Nantes-based startups have become key suppliers for the major French and international e-commerce brands. Talend (photo) employs nearly one hundred people at its R&D centre in Nantes, the second largest in France.
Most people aren't familiar with these startups, and yet they are some of the companies that have created the most jobs in recent years. They have developed online solutions used by the major French e-commerce brands, across Europe and the United States, including engaging conversations with online customers, improving a brand's presence on marketplaces, analysing data and ensuring last-mile e-logistics.
Why has Nantes become the hub for innovation in online solutions? Why do they grow faster here than elsewhere? A few days before Paris Retail Week, let's take a look at these success stories from Nantes.

iAdvize, the leader in conversational marketing
A 100% Nantes-based start-up, iAdvize has become the European leader in conversational marketing in just 8 years. Through chatbots and a community of experts, its solution helps improve the conversion rate on e-commerce websites and moves users through the purchasing process. More than 2,000 brands in Europe, such as Cdiscount, Rue du Commerce, Air France, Pôle Emploi and BMW use it. Pioneer of e-commerce in Nantes, created by Julien Hervouët in 2010, iAdvize has completed 3 rounds of financing, for an amount of 48 million euros. It currently employs 220 people in Nantes, London, Düsseldorf and Madrid, has just opened an office in Boston with 5 people and aims to double its workforce by 2020.

Lengow optimises brand presence on marketplaces
Another pillar of Nantes Tech, formed in 2009, Lengow is also a 100% Nantes startup. Thanks to its Saas software, it distributes the catalogues of e-merchants on their own websites, on marketplaces, and on price comparison websites (Amazon, Google, Cdiscount, etc.). In all, it boasts nearly 4,000 customers, including Fnac and 3Suisses. The company, which employs 130 people, has opened offices in Paris and Munich. On 27 September, some 400 European e-commerce professionals are expected in Paris for the 6th edition of the "Lengow Day".

Akeneo, the expert in e-catalogue management
An expert in online e-catalogue management, Akeneo arrived in Nantes in 2016. Created by the co-founders of Magento, Akeneo has developed a PIM solution that helps marketing teams centralise all their product information from several departments in one place, then distribute it across all sales channels, from catalogues to mobile apps. Akeneo raised 11 million euros in 2017 to accelerate its commercial efforts.

Talend, 2nd big data R&D centre after Paris
Global leader in big data, the California company Talend decided in March 2016 to open its new R&D centre in Nantes, the second in France after Paris. Located in the creative arts district of the Ile de Nantes, just steps from the Canine Numérique, it is posting steady growth of 40% per year. From a dozen employees at the beginning, the workforce grew to 100 employees by the end of June 2018 and should end the year with 120 to 125 people.
After two years in Nantes, the manager of Talend is happy with his choice: "Proximity to Paris, a dynamic economy, the talent pool in terms of tech skills, but also the spirit of innovation and quality of life are values shared by Talend and Nantes".

Nantes, a mindset inspired by Jules Verne
Nantes was one of the first in France to open a Cantine Numérique and also one of the first to obtain the FrenchTech label, giving it a head start in IT development, and this was no mere fluke. "The Nantes mindset that I found when I arrived here is a dynamic, energetic, creative, imaginative mindset," says Rob Spiro, an entrepreneur from Silicon Valley and founder of Imagination Machine, a startup accelerator located at the Cantine Numérique in Nantes.
An ecosystem on a human scale where "everyone knows everyone", strong government support and an ability to generate "creative friction" are the ingredients of these success stories. "The advantage is that in Nantes Saint-Nazaire, the doors open more easily than elsewhere. Everyone works in a collaborative spirit that you don't find elsewhere," says Vincent Roux, director of e-logistics startup fiftytruck, an on-demand co-trucking solution incubated by Imagination Machine and presented as the new BlaBlaCar for pallets.

An incubator for e-commerce startups
Newcomers benefit from the support systems, incubators and coworking spaces available. Lengow currently hosts three e-commerce startups at its incubator "Octopus". "It is not a program as such, but rather a support system. We give the startups the benefit of our experience, they can attend masterclasses that we organize, and our director Mickaël Froger meets with them regularly to help them develop their business plans," says Lengow's spokesperson.

"The attractiveness of Nantes helps us a lot."
To support their strong growth, these startups can count on the attractiveness of Nantes, which remains at the top of the list of best cities to live and work. Over the last 3 years, 264 new businesses have been opened here. "The attractiveness of Nantes helps us a lot. Whether it's the quality of life or the presence of prestigious international schools, we have no shortage of convincing reasons," confirms the iAdvize spokesperson.


Nantes Saint-Nazaire Développement is the local economic development agency. Their 25 staffers help companies and talents find business premises, introduce them to local networks, help employees settle in and provide communication support.