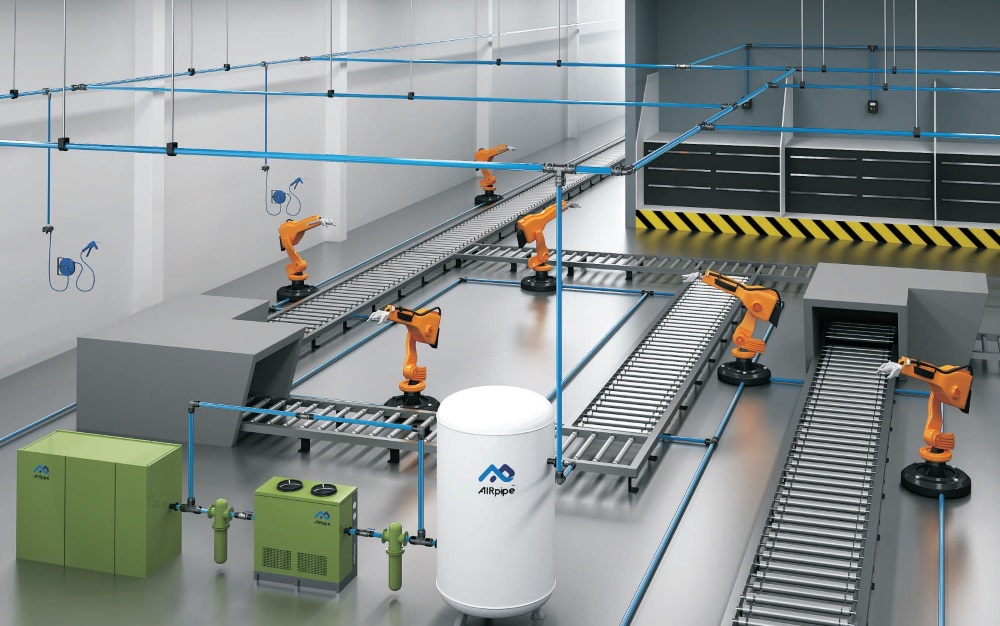 Specializing in compressed air systems for industry, the Chinese group AIRpipe opens its European subsidiary in Nantes.
The Chinese group AIRpipe (400 employees, subsidiaries in India and the US) specializes in compressed air systems. In 2008 they developed a modular aluminium compressed air piping system, designed and manufactured at their plant in Ningbo (Zhejiang province, south of Shanghai).

A solution for all types of industrial sites
"This is a technically innovative and reliable solution designed to quickly install and modify a complete compressed air system," explains Frédéric Dugast, General Manager of AIRpipe Europe. "The choice of aluminium, a material that does not corrode - as opposed to steel usually used in this type of installation - ensures very good air quality and reduces energy consumption and downtime." Potential customers include all industrial sites that use compressed air, in sectors such as automotive, aerospace, mechanics, food and materials,"from small workshops to 50,000-m² plants."

Connections to Europe and recruitment potential
Originally from Nantes, with 10 years of experience in the compressed air industry, Frédéric Dugast convinced AIRpipe to open the European subsidiary in Nantes: "Good connections to build business throughout Europe and the excellent recruitment potential are key factors." The goal of this subsidiary is to increase sales in Europe "where aluminium solutions currently represent only a small share of the market." Based in Saint-Herblain, AIRpipe Europe plans to hire 6 employees (customer service and support services) and a dozen sales representatives located in different countries.


Support from Nantes Saint-Nazaire Développement: assistance in finding a site, financial partnerships.