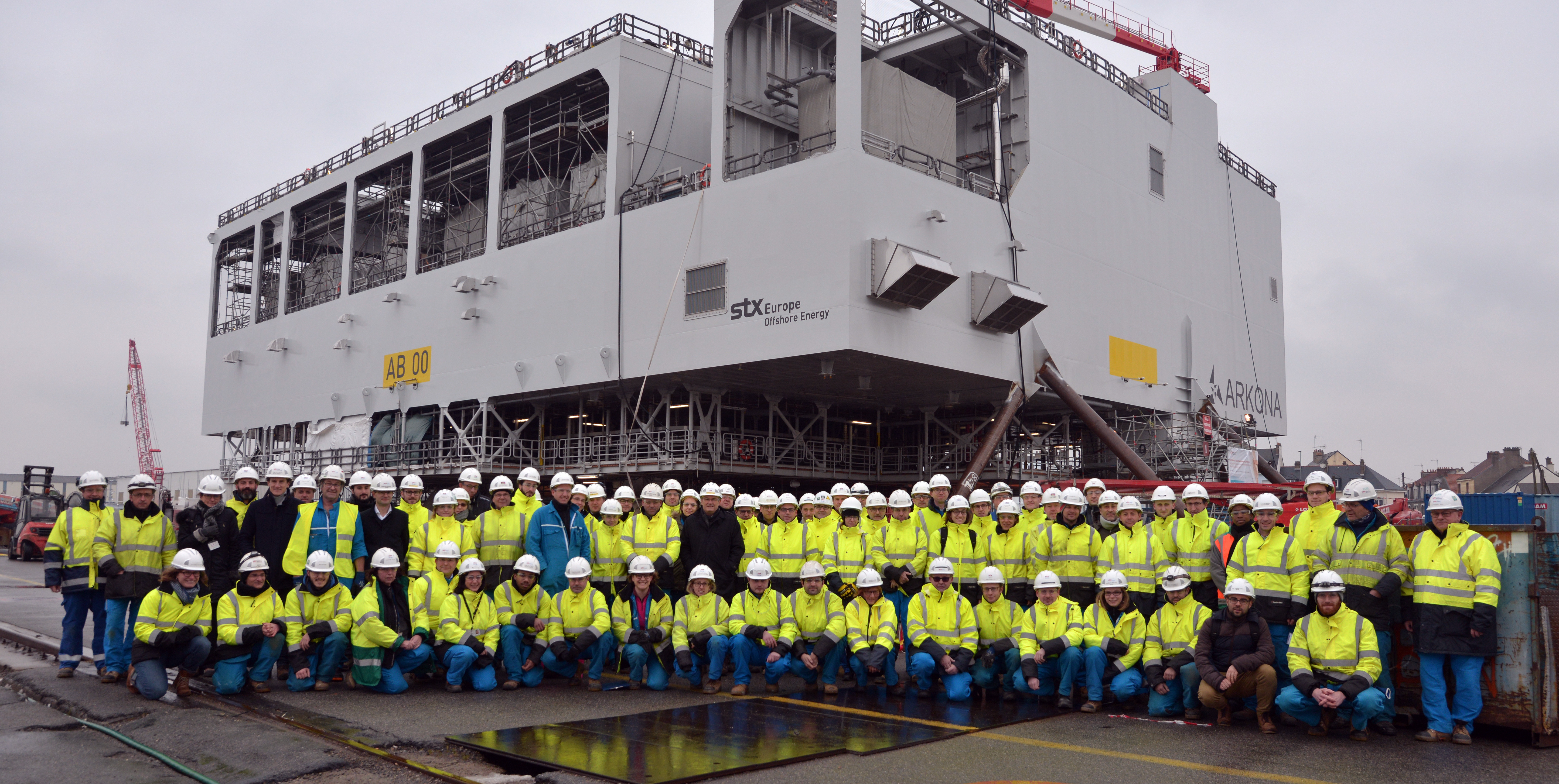 Chantiers de l'Atlantique's Atlantique Offshore Energy business unit, which employs 175 people in Saint-Nazaire, has just delivered 3 electrical substations internationally. We met with Frédéric Grizaud, Director of the business unit, who will be present on June 5 at the Seanergy Expo in Dunkirk.

In the aftermath of the 2008 financial crisis, cruise ship orders were no longer a sure thing. Chantiers de l'Atlantique began looking to diversify its activity, and decided to open up to other markets. "In 2009, at Chantiers de l'Atlantique we had an intuition that offshore wind power was going to be a strong growth market, even though at the time, nobody was talking about it yet. And we knew that our expertise in cruise ships could be used in offshore wind energy", says Frédéric Grizaud, director of the marine renewable energy business unit at Chantiers de l'Atlantique.

A major investment in R&D
"In 2011, the first calls for tender came out for offshore wind power in France, and the European market began to grow quickly". Chantiers de l'Atlantique decided to invest in research and development programs, namely "the Watteole and Fondeole projects, in collaboration with university research labs and local SMEs, supported by the Pays de la Loire region.
"At the end of 2012, we were awarded our first contract for the Westermost Rough substation in the United Kingdom, delivered in 2014". Then came two other orders, the Arkona (Germany) and Rentel (Belgium) substations. In the meantime, as orders for cruise ships took off again, Chantiers de l'Atlantique invested 20 million euros in the construction of the huge Anemos plant. "We had to quickly ramp up production, as well as handle the increasing orders for cruise ships".

Local government supports industrial strategies
This investment was made possible with the help of local government. "All in all, we are fortunate that the local government agencies in Nantes Saint-Nazaire believed from the very beginning in the potential of marine renewable energy, providing support for the industrial challenges. That was very important," says Frédéric Grizaud. The port authority also carried out numerous improvements on the docks and surrounding roadways for transporting the substations.

Nantes Saint-Nazaire accounts for half of offshore wind energy jobs in France
The impact was felt immediately in terms of jobs. In addition to the 175 people hired on permanent contracts at Chantiers de l'Atlantique, "we provided work for 250 other people at local companies. We subcontracted to more than 200 businesses, including 100 in western France, just to produce the substations. And if we take into account all the people who worked on these projects, the numbers are much higher!" Faced with the shortage of skilled labour in certain trades, Chantiers de l'Atlantique created a school to provide training for welders and metalworkers.

Arkona, the world's largest substation
Each offshore wind farm worldwide must be equipped with a substation to raise the voltage so that the electricity can be transmitted over long distances. The Arkona substation (pictured above), located in the middle of a 60-turbine wind farm in northern Germany, is the largest ever built in a single 4000-tonne module.
In all, the substations built by Chantiers de l'Atlantique transmit 1 GigaWatt of electricity, equivalent to the consumption of one million households. Over the next ten years, the growth prospects for this carbon-free energy are exponential.

Exponential international growth prospects
"The largest European market for offshore wind energy is the United Kingdom with 30 GW by 2030, followed by Germany with 15 to 20 GW, then the Netherlands with 10 GW, as well as Belgium and Denmark, for a total of some 70 GW by 2028". As for France, it is a minor player in the worldwide offshore wind energy sector, with a Multi-Year Energy Programme that calls for 4 to 5 GW by 2028.


Seanergy Expo, showcase of MRE expertise on 5 and 6 June
Atlantique Offshore Energy will be present at the
Seanergy Expo in Dunkirk on 5 and 6 June 2019
, where it will present its brand new fully modular substation SeeOs. "
SeeOs is a substation that can be adapted to wind farms and customer needs. SeeOs is now in the market phase, and we are currently including it in all the bids we are submitting around the world"
.
The Seanergy Expo will be an opportunity to discover the range of expertise in the MRE sector, with exhibitors specialising in foundations, substations, pumps and engineering, including GE, Natural Power, Geps Techno, Flowserve, Akrocean, Segula Technology (engineering), Ceteal, etc.
We are already looking forward to Seanergy 2020, which will be held in Nantes Saint-Nazaire. "
This will be a major event where we and the other regional companies will certainly have some amazing things to present,
" promises Frédéric Grizaud.