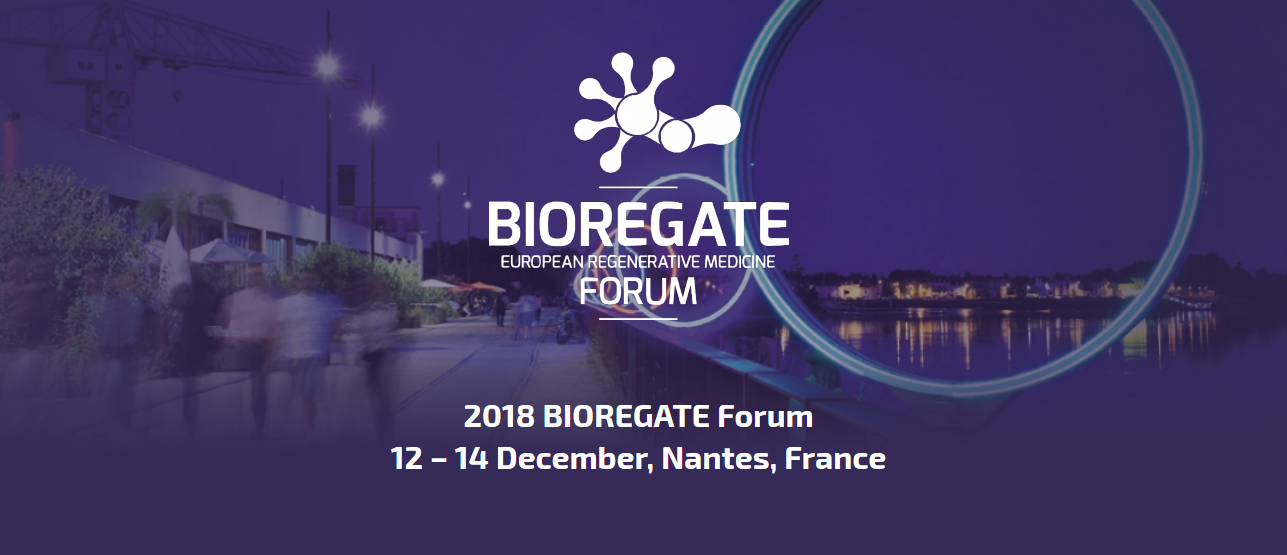 Nantes welcomes the Bioregate Forum, from 12th-14th December 2018. A great opportunity to showcase the dynamic community of local businesses working at the forefront of innovation in regenerative and reparative medicine, exporting their expertise worldwide.
A thriving community of businesses at the forefront of innovation in regenerative medicine, France's only biotherapy competitiveness cluster and the launch of the new West Biotherapy hub. An innovative new industrial sector is currently taking shape and spreading its wings in Nantes Saint-Nazaire.


Focus on 5 pioneering firms in the field of regenerative and reparative medicine

> Founded in 2005 in Nantes, Atlantic Bone Screen has been working with medical partners for over a decade on the pre-clinical assessment of new drugs, neutraceuticals and biomaterials.
The firm's team of experts offer a range of in vitro and in vivo evaluation models, as well as imaging technologies and histology. The aim is to identify the most effective new molecules in the fight against bone and joint pathologies. Services much appreciated by pharmaceutical laboratories, companies in the biotechnology and food industries, and of course public research institutions.
"Our company is growing rapidly and constantly evolving. We now have a team of 17 experts - and 60% of our business comes from export, which is an integral part of our development strategy", explains Ronan Le Bot, Atlantic Bone Screen's CEO.

> Biomatlante, pioneers in the field of synthetic bone substitutes
Experts in bone regeneration, Biomatlante manufacture and distribute synthetic biomaterials which stimulate bone growth. Founded in Nantes in 1995, the company has built up extensive expertise from over two decades of experience in the fabrication of medical materials for use in orthopaedic and dental surgery. With a team of 33 employees, Biomatlante is a leading pioneer in synthetic bone substitute technologies. The company is very active internationally, selling its products to over 50 countries and generating over 50% of its total turnover from sales outside Europe. On the research front, following the success of the European REBORNE programme, the company is now engaged in 2 randomised, multi-centre European clinical tests (ORTHOUNION – MAXIBONE) using the MBCP+.tissue engineering reference matrix.

> A young company based on the outskirts of Nantes, Biomedical Tissues manufacture synthetic nanofibre membranes to help guide tissue regeneration. After the success of recent fund-raising operations, this innovative biotech firm hopes to achieve an annual turnover of between €3 and 5 million by 2020. One of their most successful inventions is a dental implant known as Tisseos, an effective alternative for patients who - for religious or cultural reasons - prefer to avoid all products of animal origin.

> A spin-off from Nantes' Urology and Nephrology Transplant Institute, Xenothera is a start-up specialising in the development of therapeutic biomolecules from animal sources, for immunosuppression and other applications. The firm recently completed its third round of fund-raising with investors. Specialising in polyclonal antibodies, Xenothera is currently working hard to develop its first original product: an immunosuppressive agent for use in transplant surgery, with clinical tests scheduled by the end of 2018.

> Also founded in Nantes in 2005, In-Cell-Art specialises in the in vivo intracellular delivery of biological macromolecules. Led by a group of researchers which includes a Nobel prize-winner, In-Cell-Art has developed vectors which operate at the nanometric level to get through cell walls without any risk to patients. Good news: this nanotaxi technology will begin Phase 1 clinical trials on human patients in 2019, with a view to its use in two anti-cancer treatments.

Nantes, a centre of excellence in biotherapies
For more than twenty years now, biotherapies have been a major force in the economic development of the Nantes metropolis. A success story made possible by theAtlanpole Biotherapies hub, one of the most dynamic hubs in the sector and the biggest backer of biotherapy projects in France, nurturing the emergence of promising healthcare start-ups.
When it comes to research, the teams at Nantes university hospital are hard to beat. They recently snapped up 3 of the 5 European research project grants offered by the Horizon 2020 scheme. One of the winners was the iPSpine project, focused on treating disc degeneration, the cause of 40% of lumbago cases worldwide. The project will receive a €15 million grant from the European Union, with €1.25M going to the team based in Nantes.

West Biotherapy: Covering the whole value chain
The biotherapy sector continues to take shape, and Spring 2018 saw the launch of West Biotherapy, a new one-stop shop for cell and gene therapy projects in Nantes. "West Biotherapy is the only structure of its kind in France, in that it covers the whole value chain. Our goal is to provide academic and industrial teams with a range of services covering the whole development process for innovative therapeutic medicines; from proof of concept right through to clinical administration to patients. The aim is to accelerate the development process and optimise costs. The initiatives that exist elsewhere only take into account only certain aspects of projects, like product fabrication for example," explains Cécile Pierres in charge of the new one-stop shop. The scheme brings together seven institutions (CHU Nantes, EFS, INSERM, ONIRIS, University of Nantes), with 120 experts spread over 6000m² of scientific facilities, providing access to infrastructure, services and advice from the cutting edge of technology.
Bioregate Forum, 12th-14th December 2018 in Nantes
A wealth of specialist expertise which will be on full display at the second edition of the Bioregate Forum, hosted from 12th to 14th December by CCI Nantes Saint-Nazaire. Led by the consortium of the same name, this forum will welcome experts in regenerative and reparative medicine from all over Europe for a series of conferences and an exhibition showcasing Nantes' stars in this sector.


> Find out more at Bioregate Forum