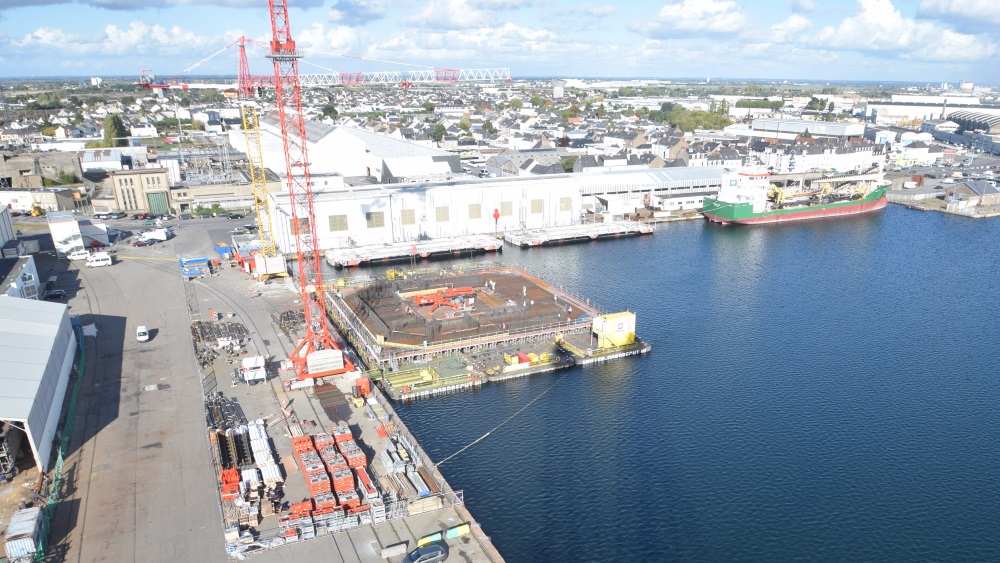 In the summer of 2017, France's first offshore wind turbine will be installed off the coast of Le Croisic, at the SEM-REV test site. Dubbed Floatgen, it will be equipped with a floating foundation currently being built in Saint-Nazaire. This is a major project for the marine renewable energy sector and for the companies working on it.
This huge project started this summer at the port of Saint-Nazaire, with the foundation of the first offshore floating wind turbine to be installed off the French coast. The construction of this square concrete float measuring 36 X 36 meters and 9 meters high will keep 80 people working through spring 2017.

Local expertise
"Whether for the secondary components or the anchoring system, we are taking advantage of the expertise of local companies such as Tissot, Shipelec, Le Béon and TGO," says Paul de la Guérivière, CEO of Ideol. Coordinator of the Floatgen project, the company based in La Ciotat designed and engineered the foundation. Working closely with Ideol, the European consortium includes Ecole Centrale de Nantes, which manages the SEM-REV test site off Le Croisic where Floatgen will be installed, Bouygues Travaux Publics, which is building the concrete structure, as well as the University of Stuttgart, RSK Group, Zabala and Fraunhofer-IWES.
An innovation in the French MRE landscape
Floatgen is the first offshore wind turbine installed off the French coast, and is also the first floating wind turbine prototype. This is a promising technique for the sector, according to Ideol: "Floating wind turbines are not limited by the depth of the ocean floor, they reduce the visual impacts from the coast and the impacts on the seabed, and they also provide improved productivity." This is an innovative position, given that 98% of the 3,000 offshore wind turbines installed worldwide are bottom-mounted towers, as well as the six French wind farm projects currently in progress.

Scheduled for completion in spring 2017, the foundation will be floated and equipped with a Vestas 2 MW wind turbine. The tower will be towed and installed at the SEM-REV site in summer 2017, and then connected to the grid. From its commissioning through mid-2019, Floatgen will aim to demonstrate the technical feasibility and economic viability of deep-sea floating wind turbines.

floatgen.eu/fr
ideol-offshore.com