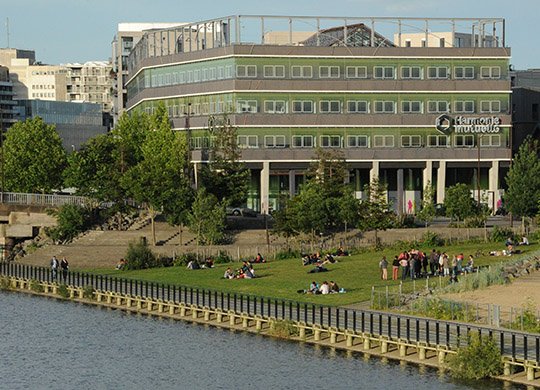 In Nantes Saint-Nazaire, e-health companies are converging on the Creative Care Factory on the Ile de Nantes, a new location that is both an incubator and an accelerator for creative businesses in the promising economic sector of connected health, telehealth and telemedicine.
The e-health startups in Nantes are applying information and communication technologies to the field of health and wellness.
E-health: 10 startups at the forefront of innovation in Nantes
Digisanté, Pulsio Santé, Mobidys, Atmotrack, Directosante, Wello, Team Officine, My Welper, Benevolt and Recipro-cite are among the dozen or so innovative companies in the field of health,well-being and better living that have taken up quarters on the same floor at the headquarters of Harmonie Mutuelle, in the Creative Factory.
Customized support for e-health startups in Nantes
Selected following a call for projects as part of the "Creative Factory" operation, these startups benefit from coaching, a targeted event program, office rentals in a remarkable site, support from experts at Harmonie Mutuelle, as well as a "welcome package" of €7,500 in the form of an interest-free loan from Banque Populaire Atlantique.
A dynamic driven by the new Healthcare District
The new 215 m² site, located on the banks of the Loire, is already full! This success reinforces the status of Nantes as a centre of excellence in the healthcaresector, where the number of startups has more than doubled over the past ten years. Further impetus is provided by the arrival of the new university hospital (CHU) by 2026 and the Healthcare District on a 225,000 m² site, for an investment estimated at one billion euros.
Are you an e-health startup interested in moving to Nantes Saint-Nazaire? Contact us!