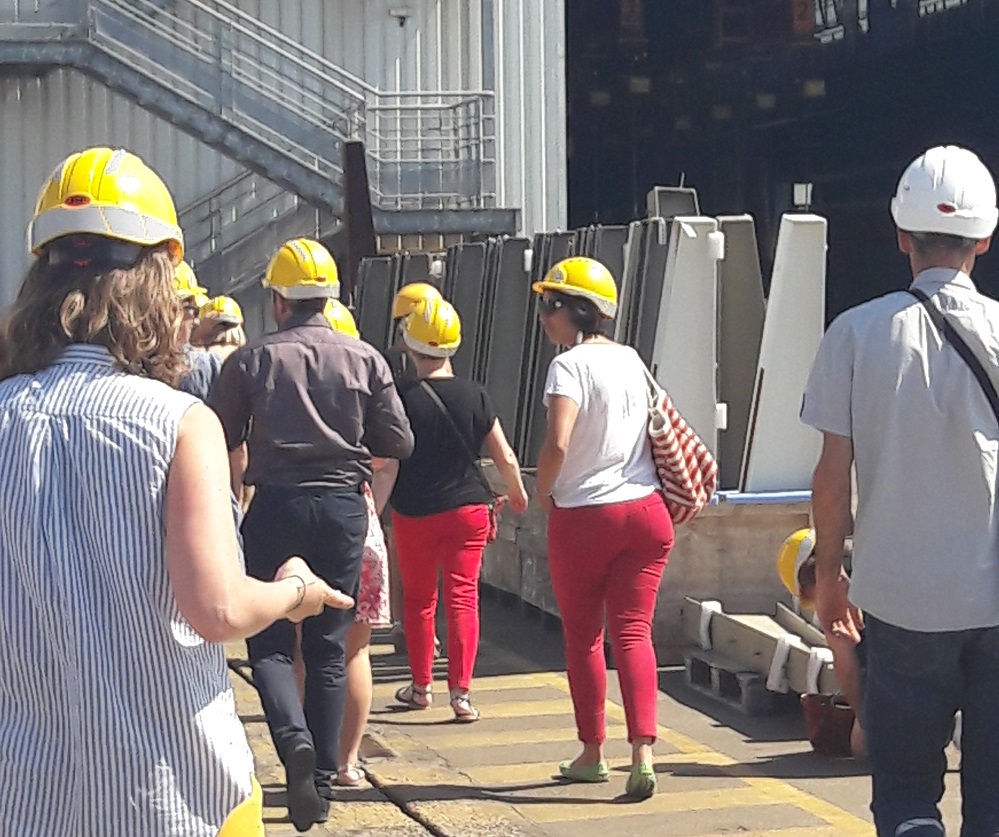 The Machines de l'Île, STX shipyards, the former Lefèvre-Utile biscuit factory and aeronautics giant Airbus open their doors to corporate groups and entrepreneurs who can go behind the scenes and connect with people at these companies. Follow the guide!
Industrial tours
> The former Lefèvre-Utile biscuit factory in Nantes
Located on the edge of the canal Saint-Félix, a five minute walk from the Nantes train station, the former Lefèvre-Utile biscuit factory has been converted into an atypical arts scene: the Lieu Unique (LU). During the tour, visitors learn about the site's past and its conversion. You will be able to explore the Grenier du Siècle, the performance venues, the hammam and the childcare centre at the LU.
> Airbus in Saint-Nazaire
The aeronautics industry has been present in Saint-Nazaire since 1923. At Airbus, during a two-hour guided tour, you will visit the workshops and meet the men and women who build the aircraft, which you will see under construction: installation of the vital circuits in a cockpit, installation of windows, etc.

> STX shipyards in Saint-Nazaire
The shipyard in Saint-Nazaire is one of the largest in the world. During the guided tour lasting 90 minutes to 2 hours, you will discover the workshops and dry docks and learn about the shipbuilding process. And you might be lucky enough to see the giant gantry crane in action, which can lift blocks weighing 1,400 tonnes!


Cultural and Creative tours
>An experiential visit
Located on the Ile de Nantes in the heart of the city, the Creative District is home to the local creative industries. For three hours, a guide takes you on a tour of the heritage of the neighbourhood, showcasing its historical, creative and quirky aspects. On the roof of the School of Fine Arts, you can watch the "Mijorettes" wielding their batons in their wild and wacky performance.

> The Machines de l'Île
The Machine Gallery, the Great Elephant and the Marine Worlds Carrousel are part of a totally new artistic project on the Ile de Nantes, just steps from the city centre. You will be amazed by the huge mechanical spider, which you can even ride on. You can take a spin on the Carrousel or climb aboard the elephant, while learning about the machines from a guide (2 hour visit).

Unusual business tours in Nantes

> Olfactory Experiences
You can discover Nantes with your nose. A perfume expert offers workshops on the history of perfumery and storytelling sessions featuring tales such as The Butterfly by Hans Cristian Andersen, accompanied by fragrances to smell. The workshops can be held either at the Castle of the Dukes of Brittany or the Museum of Arts, both located just 10 minutes' walk from the Nantes train station.
The Convention Bureau is here to help you arrange your business tours in Nantes Saint-Nazaire.